Seniors deserve to live with comfort and care.
---
We all want to thrive during our senior years, and planning for that can be challenging. As we age, even the healthiest among us will likely need some level of additional care. With so many options for senior living and levels of assistance, it can be stressful for you and your loved ones to make the right plan.
Great news! Luther Park Community believes every senior deserves to feel safe and cared for while maintaining their independence for as long as possible. We help you make confident decisions and treat every resident as though they are family—because to us, they are.
What to consider when choosing a senior living community.
DOWNLOAD NOW!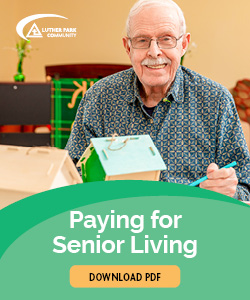 Schedule a tour today! Call 515-262-5639
Feel better about a future living in comfort – schedule a tour today!