"It's a wonderful senior center that provides all the living necessities for older people and still with full freedom available to them." 
– Roland, Luther Park Community Independent Living resident.
Independent Living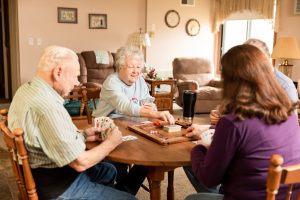 Independent Living is similar to living in your own home, but offers a more maintenance-free lifestyle. Independent living is appropriate for senior adults who are still mostly self sufficient. We are happy to discuss if independent senior housing is right for you or your loved one!
Luther Park Community has two apartment buildings to choose from for independent living — Rose Glen and Luther Park Apartments. Both offer extensive lifestyle services to people age 62 and over. Residents have the opportunity to select from a wide array of recreational and social opportunities — they choose their level of activity or relaxation. Independent living provides comfort, convenience, and security to individuals who may be seeking a more maintenance-free lifestyle.
Apartment Information
Rose Glen is a vital part of the Luther Park Community. Rose Glen offers 47 beautiful one- and two-bedroom apartments with 9-foot ceilings that make your home feel open and spacious. Walk-in closets, stackable washers/dryers, kitchen pantries, and the availability of a garage make these apartments comfortable homes. Our woodworking shop, pool table gaming area, and outdoor gazebo and gardens are just a few of the areas our residents enjoy as part of their home at Rose Glen.
Luther Park Apartments offers 99 one- and two-bedroom affordable apartments. Luther Park Apartments are priced below market rates and Section 8 housing vouchers are accepted. The sundry shop, library, and beautiful outdoor courtyard are just a few of the areas where our residents enjoy spending their time. The neighborly atmosphere and the availability of a variety of recreational and social activities makes Luther Park Apartments an exciting place to live.
No buy-in
Pet-friendly
All utilities included except for telephone
Scheduled activities and social events
Complimentary transportation to outings such as shopping, restaurants, and other attractions
On campus worship, Bible study, Rosary, and Communion
Sundry Shop
Exercise/fitness room
Complimentary breakfast served daily
Lunch available for purchase 7 days/week
DIRECTV
High-speed wireless internet
Secure building entrance
Laundry facilities in each apartment at Rose Glen; communal facilities at Luther Park Apartments
Volunteer opportunities
Library with computer access
Personal gardening space available
Community and social gathering areas
Outdoor leisure and barbeque areas
Access to beauty salon
Podiatrist visits on-site
Physical, occupational, and speech therapy available on-site
LUTHER PARK INDEPENDENT LIVING APPLICATION
ROSE GLEN INDEPENDENT LIVING APPLICATION
Contact Us Now!
Contact our Director of Independent Living at (515) 262-1153 about availability, specials, and questions you'd like answered or fill out the contact form and we'll reach out to you!
Director of Independent Living
2824 E. 16th St.
Des Moines, IA 50316
Phone: (515) 262-1153
Fax: (515) 262-0699