"All four of us as children felt cared for by the staff, not just our mom."
– Jodie A., daughter of past Luther Park memory care resident.
Trinity Center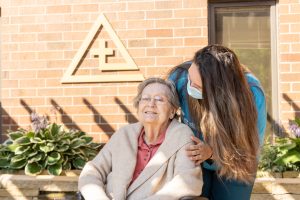 The homelike environment of Trinity Center features spacious sunrooms, comfortable common areas, and inviting outdoor courtyards. Luther Park Trinity Center offers three secure dementia areas, as well as a general nursing care area. We proudly provide long term care, short term rehabilitation, and respite care. Trinity Center has also been specializing in Alzheimer's and dementia care since 1993, and our highly trained, dedicated staff is an integral part of what makes Trinity Center so special.
Long Term Care
Long term care, also known as nursing care or "nursing home", is a licensed facility for individuals who require 24/7 nursing or health care. Long-term care is appropriate for residents who require daily, on-going assistance and round-the-clock care for optimal living.
Skilled Nursing
Trinity Center also provides skilled nursing for short-term rehabilitation. Individuals are often referred to skilled nursing after hospitalization or when they are in need of physical therapy, occupational therapy and/or speech therapy.
Providing Support
At Luther Park Trinity Center, we are dedicated to helping families manage the realities of dementia with as much love, dignity, and knowledge as possible.
While we generally think of grief as a reaction to a death, there is also grief that comes from loss while someone is still living. Although their husband/wife may still be physically present, spouses grieve the psychological loss of the husband/wife as the partner they knew.
We educate families on strategies to best engage with their loved one, enabling them to have meaningful interactions even in the final stages of dementia.
LUTHER PARK COMMUNITY OVERVIEW
Living at The Trinity Center:
Contact Us Now!
Contact the Trinity Center and ask about tours, availability, and any other questions you need answered by calling (515) 262-5639 or fill out the contact form and we'll reach back out to you!
Contact Trinity Center

Trinity Center
1555 Hull
Des Moines, IA 50316
515-262-5639