"The truth is, I'm glad that I'm not taking care of a big house. I'm glad that I'm not shoveling snow and mowing grass. And I'm glad that I have neighbors that I can see every day, rather than being in a house by myself." 
– Rowena, Luther Park Community Assisted Living resident
Assisted Living and Memory Care at The Gardens
Assisted Living at Luther Park: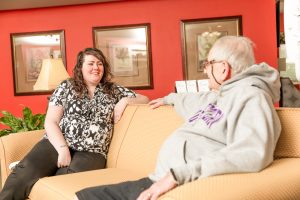 From the pleasant and inviting interior, to the caring interactions between residents and staff, entering The Gardens at Luther Park Community gives you a sense of being among friends and family. The Gardens offers a choice of five different apartment sizes, ranging from loft to two-bedroom floor plans. Many services and amenities are included in monthly rent, while nursing services — such as bathing assistance and medication management — can be added as needed. Our caring and skilled staff is a significant reason why our residents enjoy living here. With a very low turnover rate, our residents and staff truly get to know one another.
Adults who live in assisted living communities typically require some level of daily assistance for things like:
Medication management
Personal care, such as bathing or dressing
Housekeeping services
Food preparation and/or grocery shopping
Memory support services
Memory Care at Luther Park: Along with all of the apartment options and quality amenities of assisted living, we also offer Memory Care for the additional assurance of living in a safe, secure area at The Gardens. Our highly trained staff can assist with medication management, bathing, dressing, and grooming, among other individualized care needs. We use a variety of techniques to redirect, prompt, cue, and comfort our residents, including routine "I'm okay" monitoring check-ins. Dementia is unfortunately often associated with loss and decline, but our focus remains on safely empowering the individual. Our life enrichment program encompasses and individual's remaining skills and abilities to engage him/her in meaningful activities and tasks. Our goal is to foster opportunities for our residents to help, participate, and succeed so that each person feels purposeful and valued.
Apartment Information:
Loft (Studio) — approx 517 sq. ft.
One-bedroom — approx 622 sq. ft.
One-bedroom stretch — approx 751 sq. ft.
One-bedroom with den — approx 1050 sq. ft.
Two-bedrooms — approx 879 sq. ft.
Conveniences and Amenities included with Base Rent:
No buy-in
Secure building
Three meals served daily in our restaurant-style dining room
Flat linen laundry service weekly
Scheduled transportation for group outings
Weekly light housekeeping
Limited transportation to doctor appointments
24-hour call response system
Paid utilities except for telephone
Full size washer/dryer, refrigerator, stove, and microwave
DIRECTV
Hair Salon
Bistro open 24-hours/day
Planned social, wellness, and recreational activities
24-hour onsite staffing
Outdoor living spaces
Library with computer access
Free high-speed wireless internet
Exercise room
Lounge and community areas
Complimentary monthly chair massage from a Licensed Massage Therapist
Living at The Gardens Luther Park Community:
Contact The Gardens
2910 E. 16th St.
Des Moines, IA 50316
Phone: (515) 265-1887
Fax: (515) 265-2683